Google Hangouts is a great free video conferencing tool from Google for groups of 2 to 10 people to have a video conference with each other while sharing their screens, watching videos together, or collaborating on documents. There are many commercial video conferencing options on the market. Most cost between $500 to $5,000 per year. There are a few other free options. But none of the free options and in fact none of the commercial options come with the social networking features of the Google Hangouts Video Networking system. Google Hangout video conferences can almost automatically be posted on free YouTube channels allowing millions to keep up on the growth of your group. Also if you want team members to get together without your organization, showing them how easy it is to run a Google Hangout can encourage them to run their own Google Hangouts on a local level.
Prepare the Foundation for Building Communities
To build an effective online community, you will need to get and learn to use a few tools.
First, you will need a reasonably modern computer. If you have a ten year old Windows XP computer, you may be able to rejuvenate it by putting all of your data on a jump drive and then replacing the slow and unreliable Windows operating system with the much faster and safer Linux Mint operating system. We explain how to do this in our first course available at learnlinuxandlibreoffice.org.
If you have an old computer, it is likely that it did not come with a built in video camera. You will therefore also need to buy a small camera to attach to the top or side of your desktop monitor. A reasonable camera can be bought for about $50. But since you can get a brand new Google Chromebook computer for as little $200, you may want to consider this option instead. If you want to get a new computer, your best bet is to buy a Google Chromebook (which uses a version of the Linux operating system). Ideally, it should be a Chromebook with a big screen for video conferencing. Right now, the biggest Chromebook laptop screen is the HP Chromebook 14 with a 14 inch screen for $299. You can add the Linux Mint operating system complete with LibreOffice for free and be able to handle any Word documents. You will be amazed at how fast and reliable this new type of personal computer is. A huge benefit of the new Chromebooks is that they use Solid State technology meaning they do not need a fan. They are thus much quieter than a normal laptop when being used for video conferencing. You eliminate the buzzing sound of the fan.

Second, you should create a well organized website connected to an automated database. We explain how to set a Joomla website in our third course available for free at buildyourownbusinesswebsite.org.

Three Joomla tools in particular will be essential. The first is to create national, regional, state, county and local access levels with the Joomla User Manager. Joomla is the only web building tool to offer such a detailed user manager structure and it ties directly into the Joomla database. Second, you will need to install and use a free tool called Breezin forms to allow members to automatically enter themselves into the Joomla database. Third, you will need a free tool called AcyMailing to generate email lists to send emails to various groups. All of these subjected are covered in detail at the website buildyourownbusinesswebsite.org.
Third, you will need access to a high speed internet connection of at least 2 Mega Bits Per Second (2 mbps) to have a video conference with just yourself and a single guest The more guests that participate in the video conference, the higher the connection speed needs to be for all guests. For five guests, look for a 3 mbps connection and for 9 guests look for a 4 mbps connection.
Fourth, you will need to become familiar with the Google Social Networking System. This in turn involves 5 more steps learning how to use 5 free interlocking tools.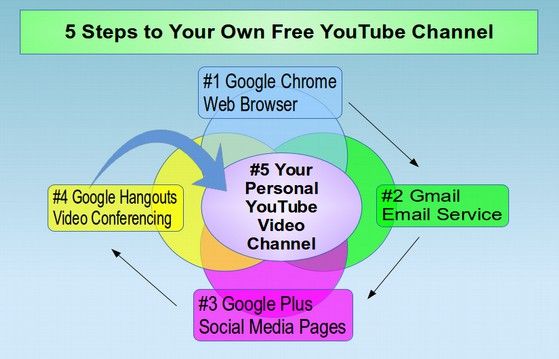 First, you will need a consistent reliable free web browser called Google Chrome.
Second, you will create a free Gmail account which comes with a Google Plus account.
Third, you will need to become familiar with your free Google Plus social networking account.
Fourth, you will need to learn how to use a free video conferencing tool called Google Hangouts that comes with your Google Plus account.
Fifth, you will need to customize your free Youtube Channel which is integrated with your Google Hangouts videos and accessed through your Google Plus account.
We will cover how to set up the Google web browser, Gmail Service and Google Plus page in this article. We will then review how to add Google Video Conferencing in the following article and using your YouTube video channel in the article after that.
#1 Add the Google Chrome Free Web Browser to your Computer
Since we will be using the free Google YouTube Social Networking system to create our own free video channel, it all begins with creating a free Gmail address – which will then come with a Google Plus account and a free Youtube channel. But even before we do this, we should install the free Google Chrome web browser on your computer and that of your students and other team members. This is needed in part so that the screens will look the same and it will be easier to help each other learn the system – and in part to reduce so of the glitches that come with the fact that some people are still using the extremely unreliable web browser from Microsoft called Internet Explorer.
Unfortunately, many people use the Internet Explorer web browser which comes with all Microsoft Windows based computers. This is a very poor and confusing web browser that lacks many essential features for using modern social networking tools. A simple solution to this problem is to download the free Google Chrome web browser. A benefit of having more than one web browser is that it is easier to do multitasking. You can have one web browser open for some tasks and other open for your video conferences. You can even share one browser screen inside of your Google Hangouts video conferencing screen.
There are different versions of Google Chrome depending on whether you have a Windows, Apple or Linux computer. Google Chromebooks already have the Google Chrome Web browser installed. For all other computers, go to Google.com and type Google Chrome Download into the search bar.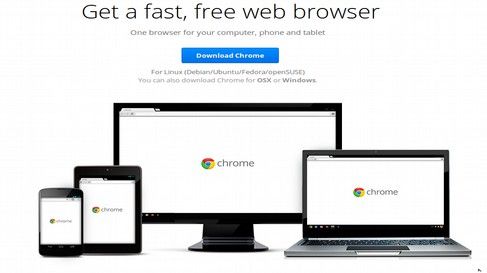 Google will analyze the type of computer operating system you are using and display a download link for the version of Google Chrome you should download. Just click on the Download Chrome button to download the Google Chrome web browser to your computer. This will place a Google Chrome icon on your computer screen. To open Google chrome, just click on the icon.
#2 Create a Free Gmail Account
You can get a free Gmail account simply by going to gmail.com and clicking on "Create an account."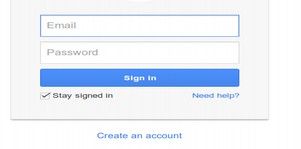 It is helpful if you choose an email address that makes it easy for others to remember who you are and where you live -such as This email address is being protected from spambots. You need JavaScript enabled to view it.. It is particularly important that folks are able to type in the first couple of letters of your email address as the email database will autofill the rest after the first few letters are typed in.
One of the first things you should do with your gmail account is to store your Gmail Email Address and Password someplace where you will be able to access it if you forget it. Second, you will want to also forward the email from your new gmail account to your normal email account. This is done by clicking on the "Settings Wheel" in the upper right hand corner of your Gmail Inbox. Then click on Settings. Then click on Forwarding.

Click Add a forwarding address. Then enter your normal email address. Check Forward a copy to and then click Add a forwarding address. Then click Save Changes at the bottom of the page. You will also need to go to your normal email address and click on a link provided by gmail to verify this forwarding.
Import Your Email Address Book into Gmail
Next, you should add email addresses from your other address books to your Gmail account. Before you can create a Google Circle or a Google Community or a Google Hangout, you first need to import your existing email addresses into your Google Plus account. While Google Plus does not allow you to import email addresses from AOL or many other places, Gmail does have a way to import any email addresses. The best way to get your email list into your Google Plus account is to first import this list into your Gmail account. After starting a new Gmail address, one of the emails you receive will explain how to add email addresses to your new account.

Click on Import Contacts and Mail. This same screen can be reached by clicking on Settings in the upper right corner of your Email start screen.

Click on Import Mail and Contacts: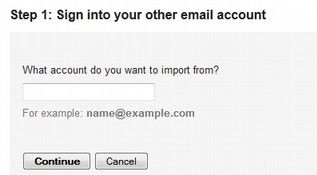 Select only Import Contacts: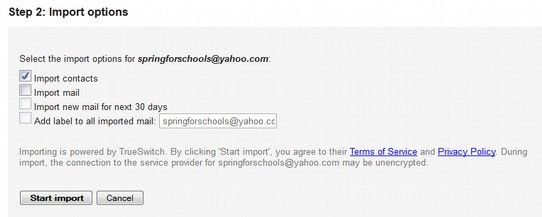 Then click Start Import. The screen will let you know your emails are being imported. Click OK.
Sadly, sometimes this import tool does not work for Comcast or many other email providers. The Gmail import tool generally does work to import your addresses from a Yahoo email account – and Yahoo has a reliable import tool for lots of different places. If you have trouble importing your email addresses, try setting up a free Yahoo email address and importing your address book to Yahoo. Then export your address book from Yahoo to Gmail. Another trick that often helps is to first import your list of email addresses to a free email manager called Thunderbird and then export the list as a CSV file from Thunderbird to Gmail. To import a CSV file from Yahoo or Thunderbird to Gmail, go to your Gmail Inbox page and in the upper left corner of the screen, click on small arrow just to the right of the word Gmail.


Then click Contacts in the drop down menu.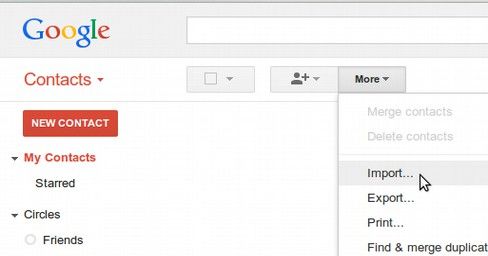 Then click on "More" in the top menu. Then click on Import and import a CSV file that you have exported from your normal email service or your Thunderbird Address book. Once you have imported your contacts, then go to your new Google Plus page associated with this new Gmail address. You can click on the (Your Name +) link near the upper right corner of your email in box. Or you can click on the Social tab in the email inbox where you can open an email called Getting Started with Google Plus.

#3 Become familiar with your free Google Plus Account
Each Gmail account comes with a free Google Plus account. To reach this account from your gmail address, click on the +(yourname) icon in the upper right corner of your gmail inbox screen. You can also reach your Google Plus page by clicking on the Squares Icon in the upper right corner of your Gmail page and then click on the Red G Plus Square.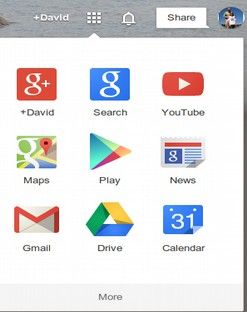 Also, you can reach your Google Plus page by going to the Google Search page, google.com. If you have a Gmail account, you will see a link to your Google Plus page in the upper right corner of the Google search page. Any of these three path will take you to your Google Plus Home page – which is similar to a Facebook home page.

Click on the Home button in the upper left corner to go to several other pages including your Profile, People, Photos, Communities, Events, Hangouts, Pages, Local and Settings. Click first on the Profile Page to go to your Personal Google Plus page.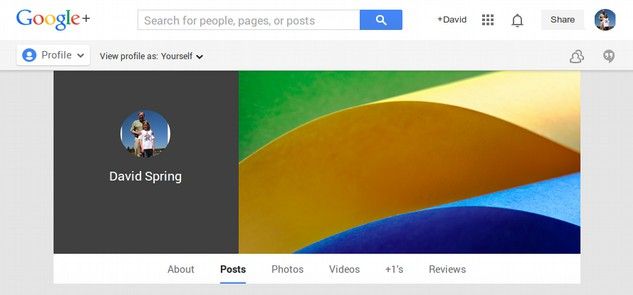 You can add a better cover photo to your Profile page by clicking on the name and current image at the top of your profile page. This will take you to a page called Select Profile Photo where you can upload a new photo. Then click Set as Profile Photo. Then choose your cover photo by clicking on Change Cover which is an icon on the right side of the Profile Page screen in the existing profile image. For the Change Cover button to appear, you have to hover your mouse over the existing cover image.This will take you to a page where you can choose from several existing cover images. Or you can click on the Upload tab and then click Select a photo from your computer to import your own cover image. The recommended size for the cover image is 1080 by 608 and the minimum size is 480×270 pixels. However, almost any image will do and you can crop the image after loading it.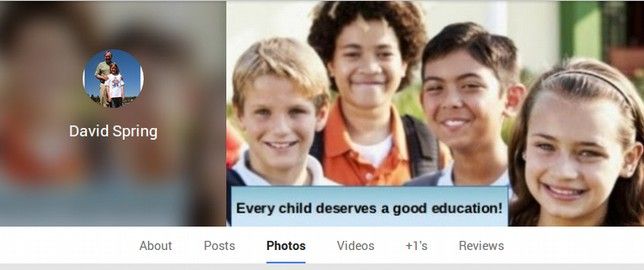 Once you have ten or more followers and a profile photo and your account is more than 30 days old, you can get a custom easy to remember URL link for your profile page by going to the following page. https://support.google.com/plus/answer/2676340?hl=en
The next thing we need to do is import our contact list into Google Plus. This is done by clicking on "People" option in the upper left corner of your Profile or Home page.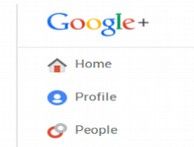 The simplest way is to import contacts from your Gmail contacts. This is done by clicking on the "Gmail Contacts" link in the side menu. This will automatically load all of them into your Google Plus People page. Another option is to click on the link called "Added you." Then click on Open Address book.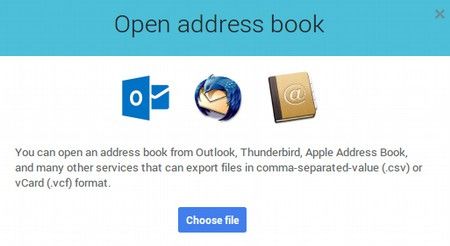 This will allow you to access any email contacts you may have in either Outlook, Thunderbird or Apple. If you click on Choose File, you can navigate to any Comma Separated Value (CSV) file you have on your computer – such as a file that has been exported from Thunderbird. Try exporting the file from Thunderbird to your computer and then uploading that file to Gmail.
How to Create a New Google Circle
Google allows you to organize your contacts into what they call Circles and Communities. You can create a circle and or community for a single event or for an ongoing organization. Circles are simply a group of contacts you can invite to a Google Hangout video or Google Hangout On Air simply by clicking on the name of the Circle rather than having to enter a bunch of email addresses every time you want to have a Hangout. Communities can have either single contacts in them or groups of circles.
To create a new Circle from your Google Plus Home or Profile page, click on People in the left side menu to reach your People page. Then click on Your Circles in the top menu.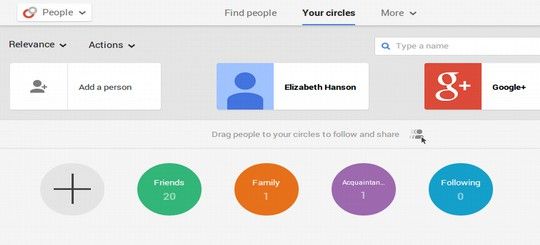 Then click on the gray circle with a plus sign in it.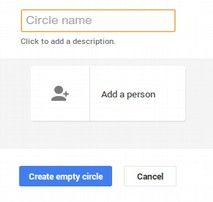 Then give it a name and click on Create Empty Circle. To invite contacts to join any of your circles, click on Find People in the People top menu. Then click on Gmail Contacts in the side menu. This will bring up a table of all of you contacts. Below each contact will be an Add button. Click on the Add button and you will see options of circles you can invite friends to join.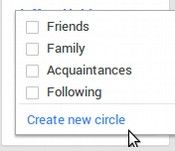 You can also create a new circle from this area. Google has already created some Circles for you such as a circle called Friends and another called Family and another called Followers. Then when you start a new Google Hangout Video or Hangout on the Air video, instead of simply inviting folks one at a time, you can invite a particular circle. All of your Circles will appear when you click on the Invitation box when you are creating a new Hangout Video or Hangout On Air event.
How to Create a Google Community
Google Communities are very similar to Google Circles. To to see a list of existing Google communities and/or to create a new community from your Google Plus Home or Profile page, click on Communities in the left side menu.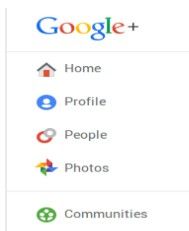 Your Google Plus Community page will look like the following.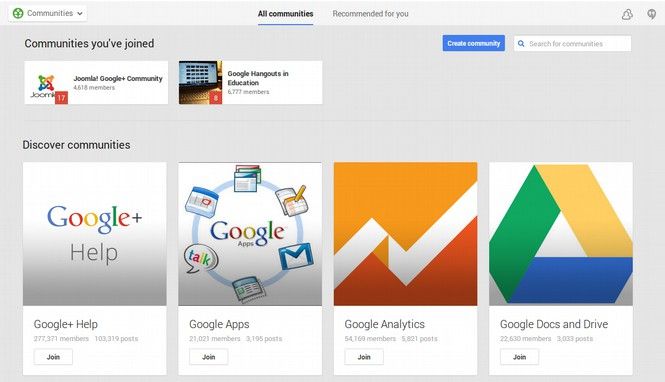 There are many existing communities you can join. Scroll down the list and you can join but clicking on the Join button. To create a new Community of your own, click on the blue Create a Community button at the top of the page.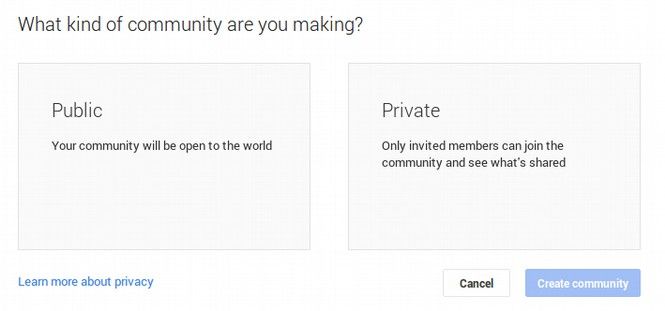 Click on either Public or Private. Then give it a name. With a Public Community, you can either let anyone join or you can approve those who join. With a Private Community, you can either have it visible to search or hide it from search.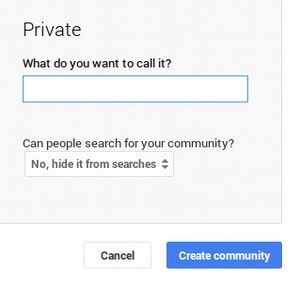 Then give it a name and click Create Community. You can create as many Communities as your organization wants or needs. Communities can also be divided into categories. For example, you can divided your contacts by the region or state they are located in. You can put contacts into more than one circle and/or more than one community. Once you create a community, you as the community owner can appoint any member of the community to be a moderator for that community and they can invite more people to join the community.
Next, you can invite people to join the community by emailing them or simply sharing a link to the community on a web page or Facebook page. Then when you start a Google Hangout, instead of simply inviting a small Circle, you can invite the entire community. It is not necessary to create a new Circle or a new Community to have either a Google Hangout Video or a Hangout on Air. But if you do a lot of these, it will be quicker to create Google Circles and Google Communities to keep all of your contacts organized and send out invitations more easily.
Once all of your contacts have been imported to your Gmail account and to your Google Plus account, you will see a bunch of images on the People page of your Google Plus account. Click on a couple of them that you want to test Google Hangouts video conferencing with to invite them to join your Google Plus "Friends" Circle. When you click on the Add button below their name, you will see that you can add them to any of four current circles (Friends, Family, Acquaintances or Following). You can also click on Create a New Circle for a particular group of contacts you want to create.
For now, add them to the group called Friends. Below the list of people who have already joined Google Plus is another group of people you can invite to join Google Plus. Click on the Add and Invite button to invite some of these people to Google Plus.
Now that we have some contacts in our circles, it is time to create our first Google Hangout Video Conference call. That is the subject of the next article.