In our previous article, we reviewed how to create videos using a free screen capture tool called Simple Screen Recorder (SSR) and how to create web cam videos with a free web cam capture tool called GUVCView. In this article, we will look at a couple of ways to post videos to your website that have already been posted on the internet. The first way is to simple copy and paste the embed code of any video into the HTML code of your website. The second way is to download the video to your computer where you can edit the video before posting it to your website or your YouTube Channel.
How to Embed a Video to your Website
If you right click on most videos, it will magically bring up the embed code. For some videos, you will need to go to the page the video is on and then right click on the page and then select "view source" to bring up the HTML code for the web page. You will then need to scroll down the page of coding to look for the code to the video you want.
YouTube makes it very easy to find the embed code of any video posted on YouTube. Simply go to the video you want. Below the video description is a button called Show More.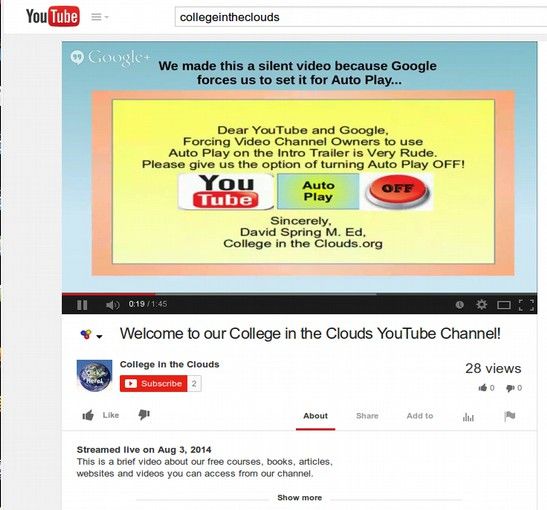 Click on the Show More button to bring up the following options.

Click on Embed.

This is called the Iframe embed code.

Most website building tools will require you to select a special setting to allow Iframes to display. With Joomla websites, we recommend using the JCE Editor which has a box you can select to allow Iframes. For more on the JCE editor, visit this page.

http://buildyourownbusinesswebsite.org/2-setup/2-4-add-a-better-text-editor
Then go to your website page and click on the "source code" option to paste the video embed code into your web page where ever you want it. In the box below is what a typical embed code looks like after it has been embedded into the bottom of a website page HTML code.

This is what the above code looks like at the bottom of the page seen by visitors to the website.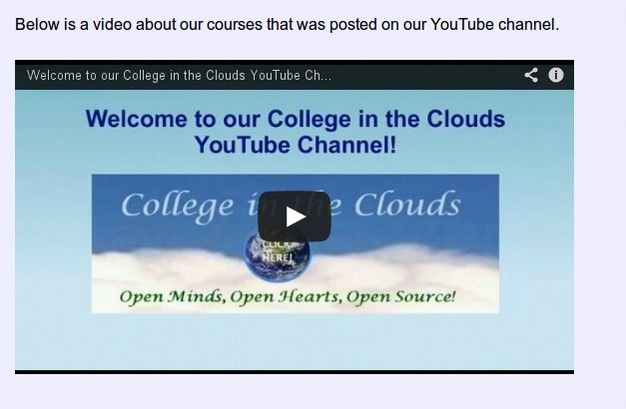 If you are not comfortable pasting embed code into the HTML page of your website, Joomla also offers free extensions that that can embed the code for you simply by pasting the YouTube link into a box.
How to Download a Video to Your Computer to Create a Video Clip
There are some problems with embedding a video from another website such as YouTube to your website. First, the video is merely a link, Should the other website take down the video, it will no longer show you your website. YouTube has over 4 billion visits per day with millions of videos taken up and down every day. It is like the Wild West. So a link to a YouTube video may not be reliable. Second, the video will play in its entirety. The video may be an hour or more long and you may be interested in sharing only a 5 minute segment in the middle of the video. Third, you may want to stop or annotate or highlight a certain section of the video or place additional links in the video. Fourth, you may want to combine a clip from the video with clips from other videos to create an entirely new video. A video clip is like a quotation from an article. It allows you to choose the precise section of the video you are interested in educating your viewers about. It recognizes that your viewers may not have the time or interest to watch the entire video. For all of these reasons, it may be preferable to download and edit or cut out a section of a video. While there are some tools available to download videos, it is generally easiest to use an operating system independent tool to download videos. Put another way, the easiest way to download videos is by using a tool intended to work inside of a web browser.
The free Google Chrome web browser has several tools that can be used to download videos. However, they often do not work – especially on YouTube videos. The free Firefox browser also has a lot of free extensions for downloading videos. Most of these also do not work well. However, there is one that will download almost any video and even allow you to choose the format you want to download the video in. So we will use this tool.
First, if you do not already have Firefox, download the latest version of it to your computer. Then click on Tools, Addons in the top or upper right menu.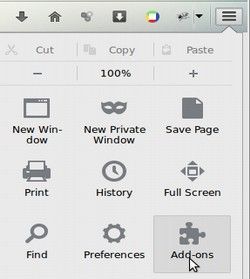 This will show a list of all of the extensions you have currently installed into the Firefox web browser. Click on Get Addons in the upper left corner of this screen.
Then in the search box, in the upper right corner, type in Flash and Video Download.

There are 473 options. Click on See all 473 options at the bottom of this page.

The Download Flash and Video extension has over 600,000 users.
Hover your mouse pointer over this option. Then click on the green ADD button to add it to your Firefox web browser. Then click Install Now. This extension will now show up in your list of extensions.
Next, in Firefox, go to YouTube and pick out a video you want to download. Any time you are on a website that has a video on the page, a blue icon with a downward pointing arrow on it will appear at the upper right corner of your browser.

Click on the blue arrow to bring up a list of video downloading options. Above it shows 6 ways to download the above YouTube video. Note the differences in file sizes. We will download the MP4 version which is a common video format we can use for editing. FLV is also very common. You can then choose where to download the video in your file manager and what to name it. To verify that the video was downloaded properly, open the video and play it with your VLC media player.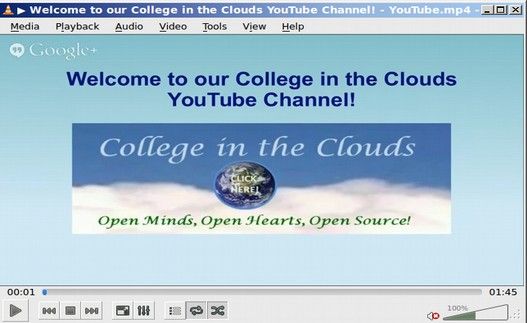 To see how versatile this tool is, go to another website and download another video. For example, open your Firefox browser. Then click on this link and you will find a very interesting Edward Snowden video at the bottom of the page.
http://recode.net/2014/07/19/edward-snowden-plans-to-work-on-privacy-tech/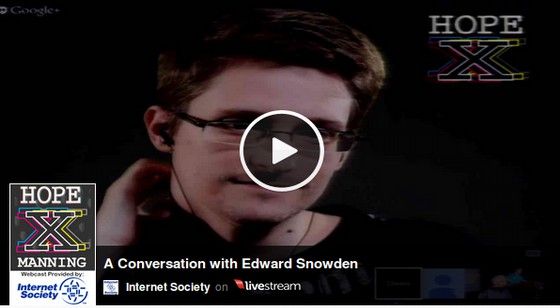 It was done as a Google Hangout. But it was not posted to YouTube at the time. Right click on the page source and at about Line 900 you can find the Embed code. But what happens if this video is taken down? A better option is to click on the Blue Download Flash and Video arrow now at the top right corner of your Firefox web browser.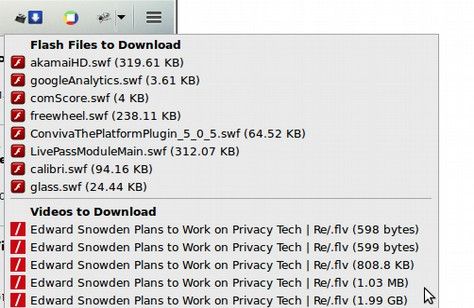 You can see all kinds of options for videos to download on this page. Most of them are ads. Then there are five options for downloading the Snowden video. We do not want very small file sizes as these are not actually the video. Instead, we will download the 1.99 GB option (assuming you have space on your hard drive to download such a large file).
The reason the file is so big is that the video is 90 minutes long. We can later edit this video down to 9 minutes of his most important comments and load it to our channel. This will drive a lot of traffic to our channel. Even if you have a high speed connection, it will take several minutes to download such a large file. Leave the browser window open to allow the video to fully download. If you need to go to another website, open another browser like the Google Chrome Browser and use that to continue your browsing while the video downloads with your Firefox browser.
You can tell when it is done loading by opening up your file manager and looking at the file size. To verify that the file plays correctly, open your VLC Media Player and play the video.


Download Music (Audio) Files from the Internet
Adding music to the beginning and ending of your instructional videos is important because music engages the emotional right brain areas of your viewers which motivates them to continue watching the video and also helps them better remember the information you provide in your videos. There are three main sources of free music files on the internet. First Google has a web page called the Google Audio Library with thousands of free music files which can be used as background music for your videos. Second, you can usually download songs from any YouTube page. Third, there are many websites that offer free use of songs as long as you provide a linked citation at the end of your video back to their website. Let's take a brief look at all three options.

Google Free Audio Library
YouTube offers more than 150,000 audio tracks on its site that you can use as background music for your videos. This tracks, however, can't be downloaded, which makes it hard to use them in your videos. Thankfully, Google now offers 150 free music tracks that can be downloaded as an MP3 file. To preview and/or download these tracks, just visit the following web page. These can be used for any purpose – not just for YouTube videos. Also they do not require any citation back to YouTube.
http://youtubecreator.blogspot.com/2013/09/free-music-for-your-youtube-videos.html

You'll find a link to this free music library in your video manager and you can browse the tracks by mood, genre, instrument and duration. From the Video Manager, click on Create, Audio Library https://www.youtube.com/audiolibrary/music

On the next page is an image of what the free Audio library page looks like.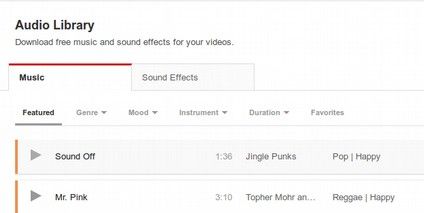 Click on the arrow to the left of the track to preview it. Click on the download link to the right of the track to download a copy of the track to your computer.

Download Songs from YouTube
You can use the video download tool to download many videos with music tracks. You can then use Open Shot Video Editor to separate out these video tracks. Alternately, you can copy just the music by copying the YouTube URL and then going to a music download MP3 converter website like http://www.youtube-mp3.org/
Then paste the URL in the form box and within seconds you can click on a download link to download the file to your computer. Be aware that some music on YouTube is copyrighted and you therefore should not use the entire song without permission. Nor should you use the song to make money. But as long as you do not charge for the song and you are using the song for educational purposes and only using a portion of the song, you are generally ok. See the final section of this article called Fair Use for more information.

Visit Free Song Distribution Websites
Many musicians make their music available for free download and let you play the entire song on your videos as long as you provide a link to their website at the end of your video so that folks know where the music came from. There are more than one hundred websites that offer many types of free downloadable music. One of my favorites is a website called danosongs.com. This is another website with thousands of free audio download options:
http://videolane.com/2011/07/free-royalty-free-music-download-sites-for-videos/


What Constitutes Fair Use?
When downloading videos, it is important to avoiding violating copyright laws. In general, if you just download a video and post it on your website to make money, that would be a violation of copyright law. However, if you download a video and edit out a clip from the video and post it to a non-profit educational website for educational purposes, there is generally not a problem with this. The same is true for downloading images and text. You can download single images or sentences to use for educational purposes – but generally not for commercial purposes. Be aware that if you violate copyright laws, YouTube can take down your YouTube channel. So be careful to stay within the bounds of the Fair Use Doctrine.
This finishes our article on embedding and downloading videos. In our next article, we will look at how to create your own videos in the real world and in a virtual green room.